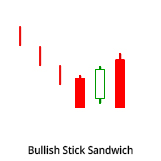 Definition
In the Bullish Stick Sandwich, the three consecutive days always open higher than the previous day, but the share closes around the first day's closing price on the third day. It gives a strong support, which can reflect a short-term reversal.
Trend: Reversal
Expected trend: Bullish
Previous trend: Bearish
Reliability: Low
Type: Bullish
Number: 3
Recognition
The market is in a downward trend.
The first day is a Bearish Marubozu Black.
The third is a white candle, closing above of the first candle's closing price.
The third day is also Bearish Marubozu Black. Its closing price is around the first day's closing price.
Interpretation
The first candle of the formation suggests an inclining trend. On the second day, the share opens higher and the price starts to increase. Finally, it closes close to its daily maximum. This day may suggest an upcoming reversal. Short position owners will try to protect their capital. On the third day, the market opens on a three-day maximum. However, the prices start falling due to the short position owners' activity. Finally, the share closes near the first day's closing price. The formation provides support and possibility to a trend reversal.
Important factors
To make sure the trend is reversed, a confirmation on the fourth day is needed. The confirmation could come from a white candle with an upward gap or a higher closing price.