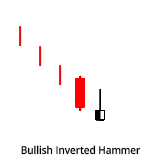 Definition
Bullish Inverted Hammer formation consists of two candles: A long black candle followed by a short candle with long upper shadow. The shape is close to the Bearish Shooting Star formation. If the Shooting Star appears in an inclining trend, one can talk about Bullish Inverted Hammer.
Trend: Reversal
Expected trend: Bullish
Previous trend: Bearish
Reliability: Low
Type: Bullish
Number: 2
Recognition
The market is in a downward trend.
The first day is a black candle at the bottom of the trading range.
The second day is a small candle at the bottom of the trading range.
The colour of the second candle is irrelevant, the first candle must be black.
It is not a must to have a gap between the two days.
The second candle has no (or only a very short) lower shadow.
Interpretation
Bullish Inverted Hammer appears in an inclining trend. On the day of the Inverted Hammer, the market opens at the bottom of the trading range. Later, the direction of the price movement changes. This increase is not powerful enough and the share closes near the minimum at the end of the day. It is not totally clear why this formation is listed as reversal. This will be only known on the next day. If the share opens above the Inverted Hammer's body, the investors who opened a short position during the formation, have lost their money. The higher the market opens, the more certain the reversal signal. If several investors close their short positions, the price will increase which will motive other investors to open long positions.
Important factors
The bullish viewpoint must be confirmed on the next day. It could come from a higher share opening than the body of the Inverted Hammer. The larger the gap, the more reliable the confirmation. A white candle with higher trading range can be a confirmation as well.